New 24 Hour Menu & Craft Cocktails at Crazy Horse 3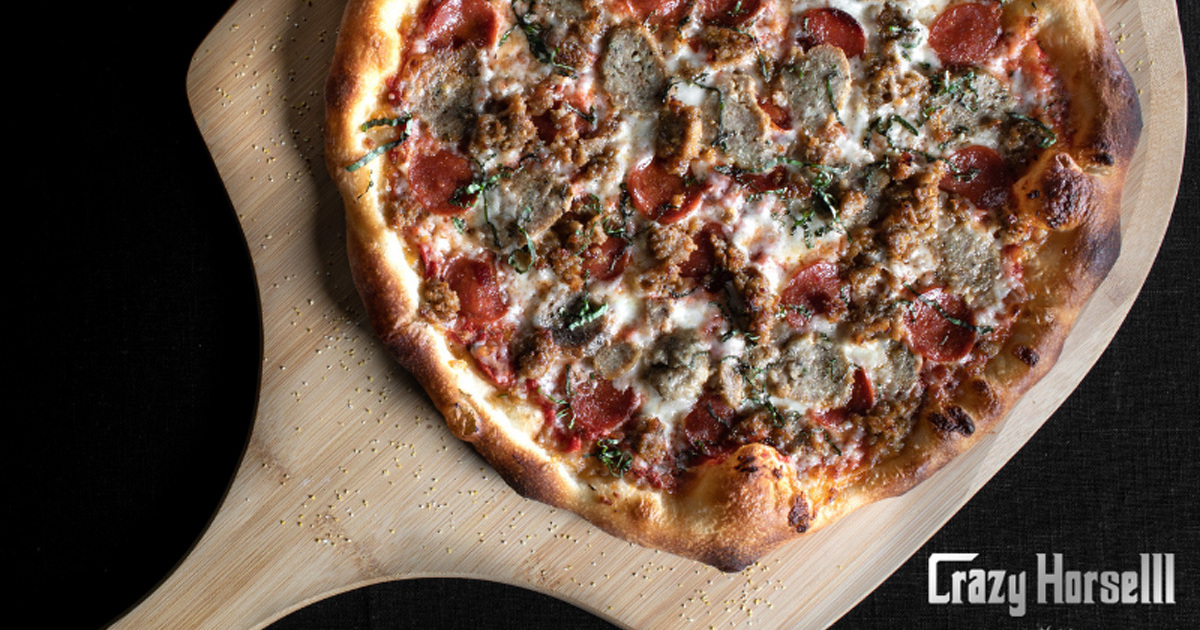 Description: We've refreshed our menu and added new craft cocktails. Our 24hr kitchen serves your favorites including pizza, tacos, wings, salads and more.
When you come to Las Vegas you expect the absolute best experience everywhere you go. Whether it's your hotel, the shows, the nightlife, or the food, everything in Vegas is world class. This is no different at Crazy Horse 3. We are committed to providing the highest end gentlemen's club experience in all of Las Vegas.
With the city's new football stadium in town being built just 900 feet away from our front door, we wanted to make sure we are upgrading with the city. As you may know, we recently expanded and remodeled. In addition, we are excited to introduce you to our all-new 24/7 elevated bar menu and lavish craft cocktail bar.
So what's new about our the best gentlemen's club food menu in all of Las Vegas? Well, pretty much everything. The menu, available 24/7, offers an array of unique flavorful selections that appeal to all taste buds. Not only is the food selection great, but the preparation methods also outclass any kitchen you'll find in a Las Vegas gentlemen's club.
We're talking pizza cooked in a stone oven, savory chicken wings, rolled quesadillas and much much more. We have no doubt that your taste buds won't be satisfied like this at any other gentlemen's all of Las Vegas. We've broken out the food menu for your here.
The Pizza
The new Crazy Horse 3 menu includes five signature pizzas prepared in a stone oven, with signature toppings such as house-made sausage, pepperoni, crushed tomatoes, and imported Italian mozzarella cheese. Our pizzas are not the stuff you'd see at your local mom and pop shop. If you're a cheese pizza kind of person, we've got your traditional New York Style cheese pizza made with crushed tomato, fresh parmesan Reggiano, garden-fresh basil, and imported Italian mozzarella cheese. Pepperoni pizza more your style? Ours is made with crushed tomato, the finest imported pepperoni, and of course only the best mozzarella cheese.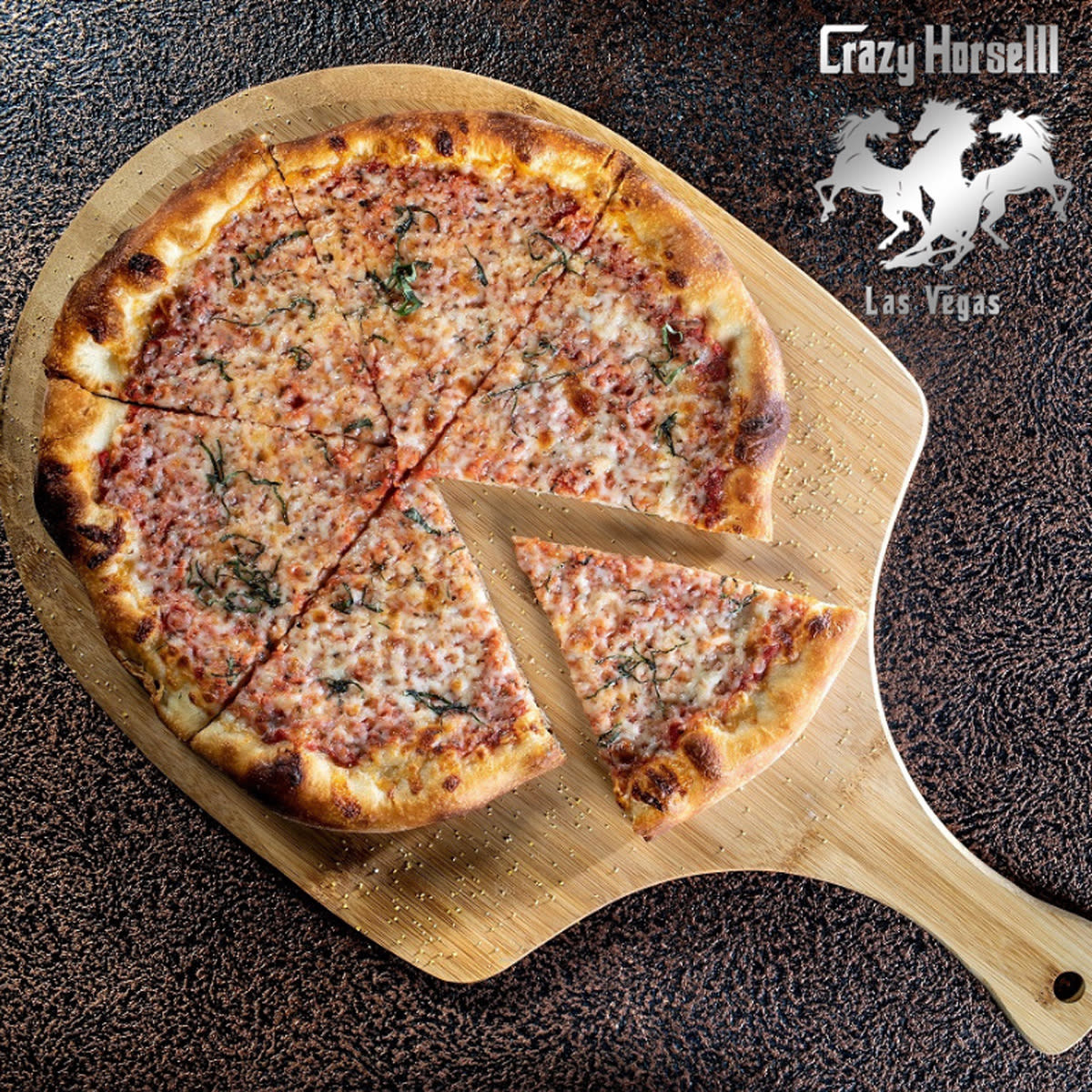 Need a little more meat on your pizza? Try our Meat Lovers Pizza topped with your favorite meats; house-made sausage, imported pepperoni, and juicy meatballs. Of course, not everyone loves meat on their pizza, so we created a delicious veggie pizza for our veggie lovers and topped it with garden-fresh broccoli, grilled zucchini, mushrooms, and sweet red onions. Where are our BBQ lovers at? We made sure to include a BBQ Chicken pizza topped with farm fresh chicken slathered in bbq sauce and sprinkled with red onion. Pizza lovers, we're confident you'll be satisfied with these new pies.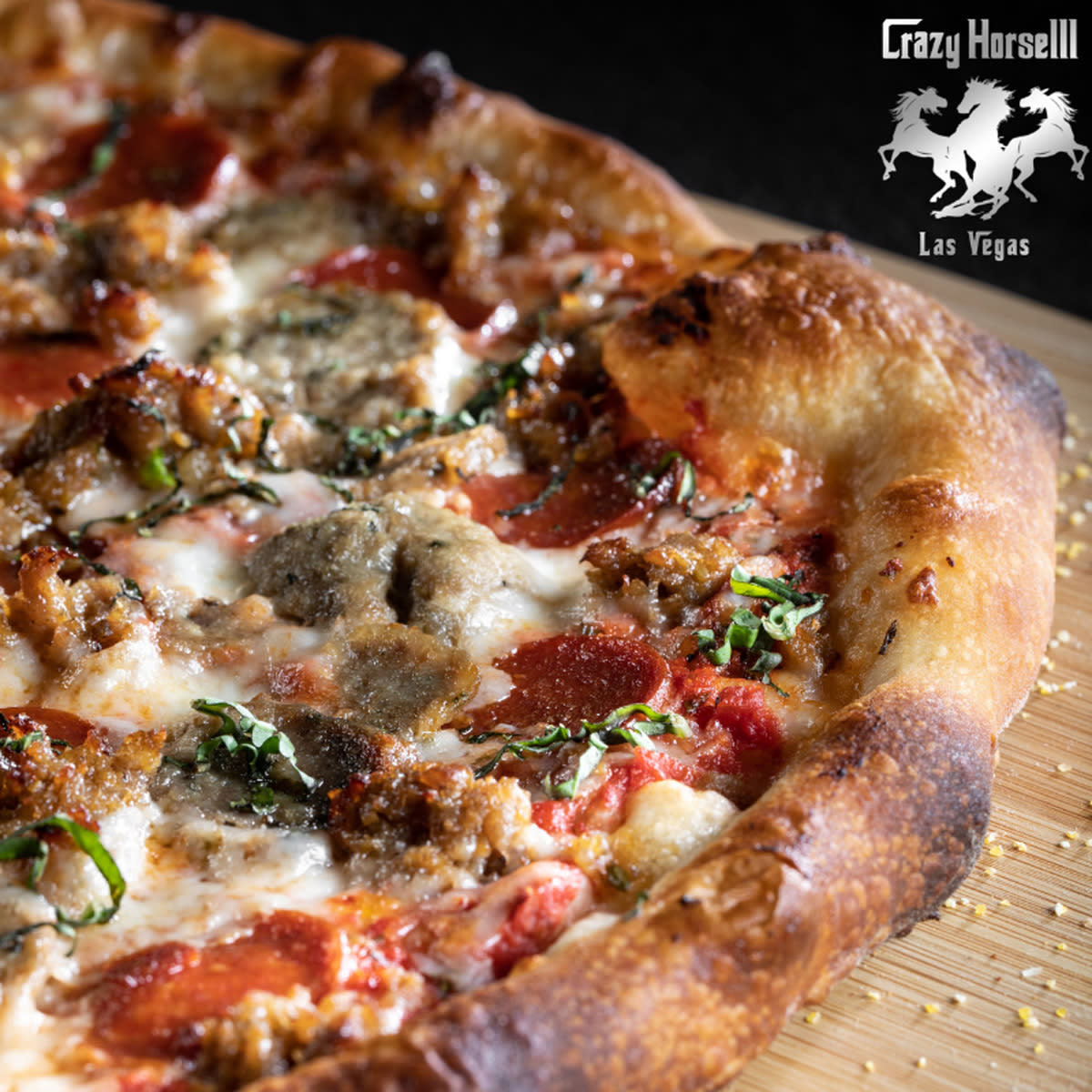 The Salads
Maybe you're looking for something a bit healthy, so you'll feel great poolside later in your trip! We've prepared garden-fresh leafy salads for you as well. Starting with our Crazy Horse Greens salad which contains the freshest lettuce, vine ripe tomato, cucumber, and shredded carrots you'll find in the desert. Topped with a hard-boiled egg and some balsamic vinaigrette.
Our second salad is our Tostada salad which is a tortilla shell packed with your favorite taco salad ingredients; spring mix, white cabbage, roasted corn, black beans, cheese mix, balsamic, chicken, cilantro dressing, sour cream, pico de gallo, cotija cheese.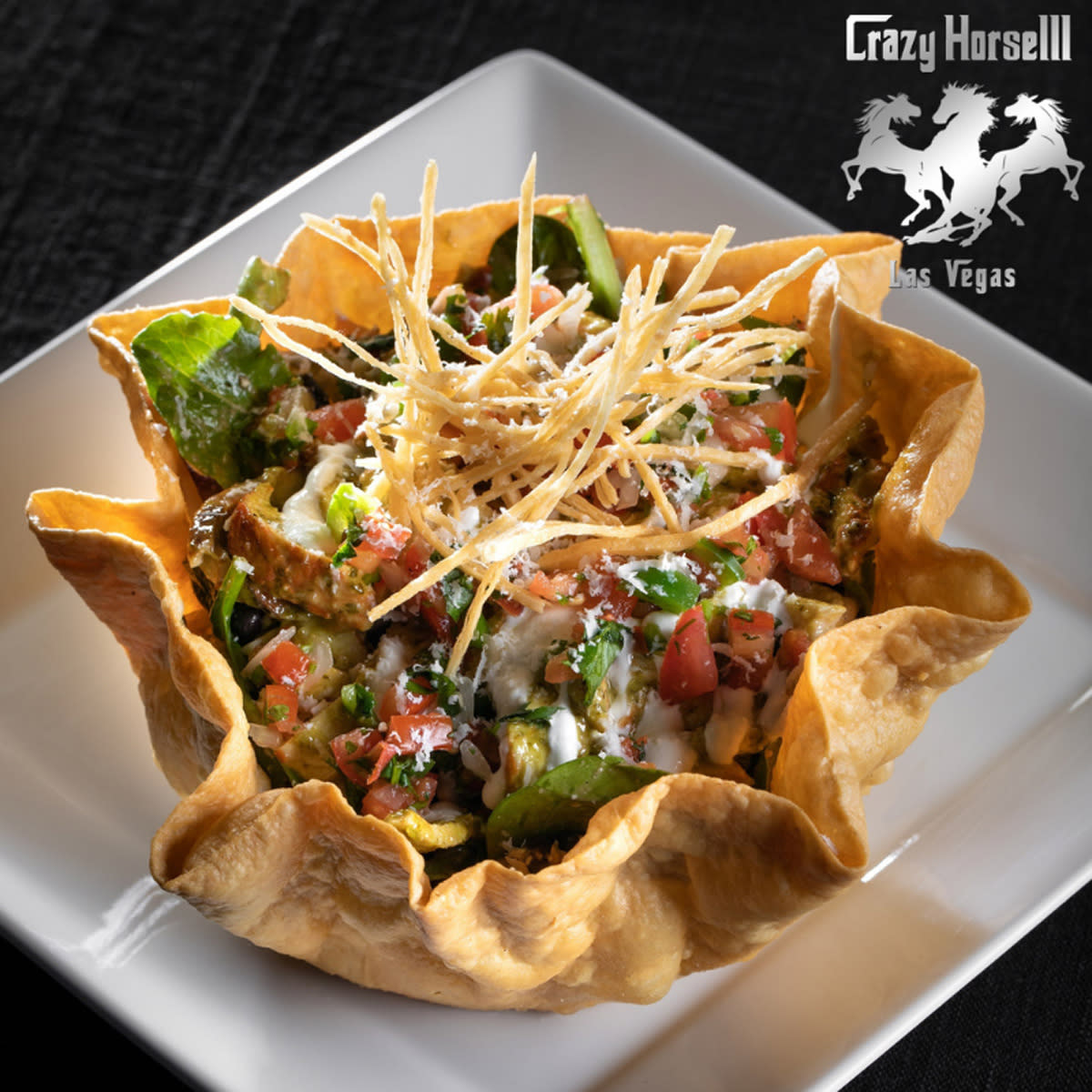 Of course, if you are looking for a more traditional salad like a Caesar Salad, ours is made with buttery parmesan croutons and our house caesar dressing. Our salad selection will certainly not be something you have to work off in the morning.
The Sandwiches & Entrees
Pizza and salad are great, but let's explore more traditional menu items. We've taken what you may see on a traditional menu and ramped it up a notch. Start off your day strong with our delicious breakfast burrito made with chorizo. eggs, and potatoes.
You'll find both a classic egg sandwich and a potato & egg sandwich on our menu. We highly recommend you try both. A quesadilla is a staple on a traditional menu, but we ramped it up by offering your choice of either fresh grilled chicken or sirloin steak and a blend of Mexican cheeses, topped with sour cream and house-made salsa.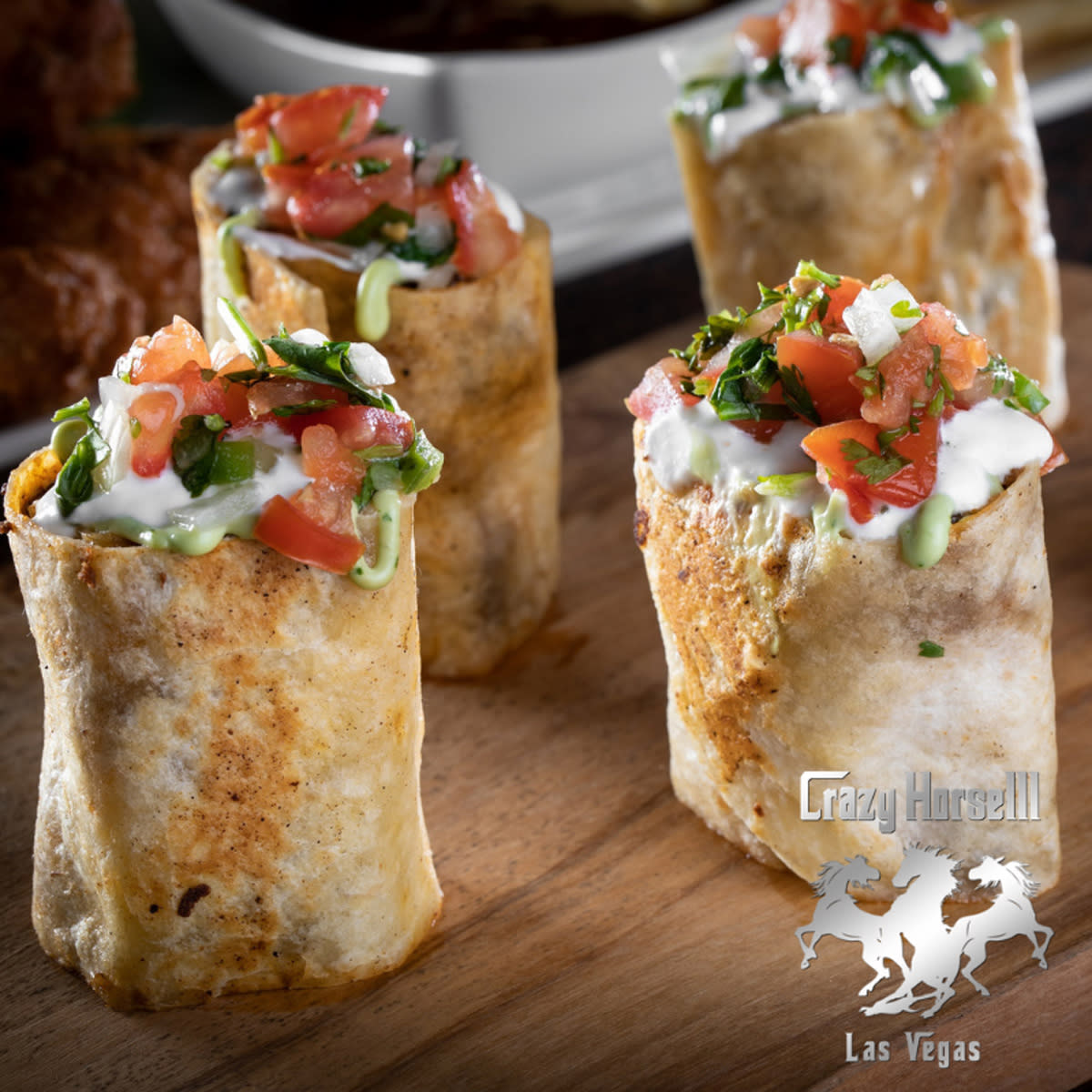 In need of a burger? The ultimate cheeseburger will surely please your taste buds. It is made with two ground sirloin beef patties grilled to perfection, bacon strips, American cheese and Crazy Horse 3's signature crazy sauce, served on a brioche bun with fries and an oversized pickle.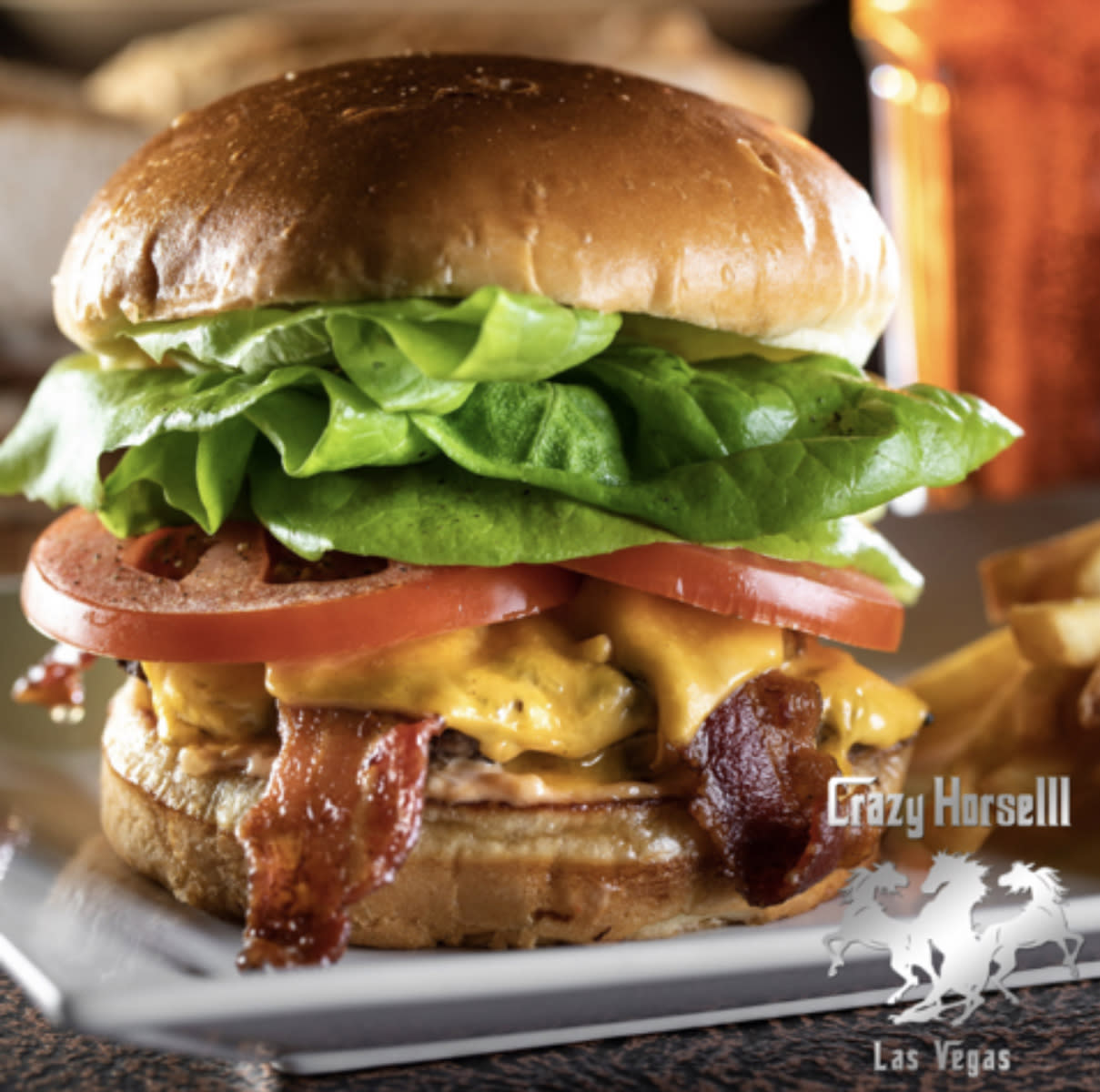 We've also added a chicken cutlet parmesan sandwich made with pan-fried chicken, tomato sauce, mozzarella. We offer a chicken caesar wrap for the healthier audience, served as it should be. You definitely don't want to miss our signature Crazy Horse Steak Sandwich: sirloin steak topped with caramelized onions, peppers, and cheese.
Last but not least is Nonna's deconstructed meatball sandwich, made with veal, pork, and beef simmered in a house-made Bolognese sauce, topped with ricotta cheese and served with two toasted slices of Italian loaf bread.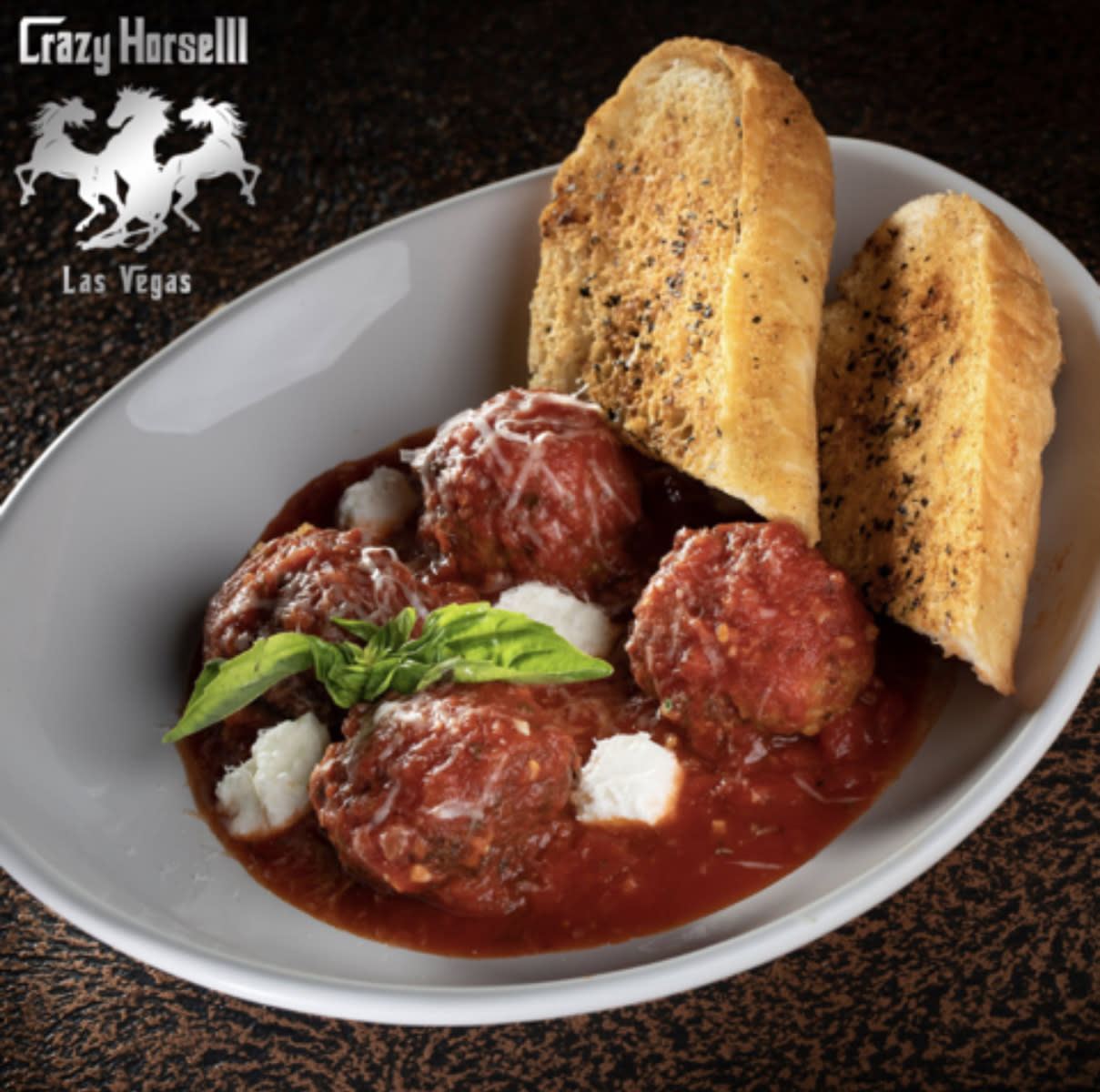 The Chicken, Tacos, and Sliders
What's an East Coast-inspired menu without some delicious sliders, chicken tenders, and tacos? Starting off with our sliders is our meatball sliders made with homemade meatballs. The next sliders on our menu are our ground sirloin sliders. This the Crazy Horse Steak Sandwich but mini. Now, what's a slider menu without some delicious pulled pork served with coleslaw?
If you love crispy chicken tenders, our signature recipe never disappoints. More of the bone in type? Our crispy wing dings will certainly please your palate while you enjoy your time at Crazy Horse 3.
We've decided to upgrade our taco offerings by offering grilled fish tacos made with mahi-mahi, Cholula mix, slaw dressing, pico de gallo, and avocado. All beautifully wrapped in a flour tortilla. We also offer the classics in our chicken tacos or upgrade to steak!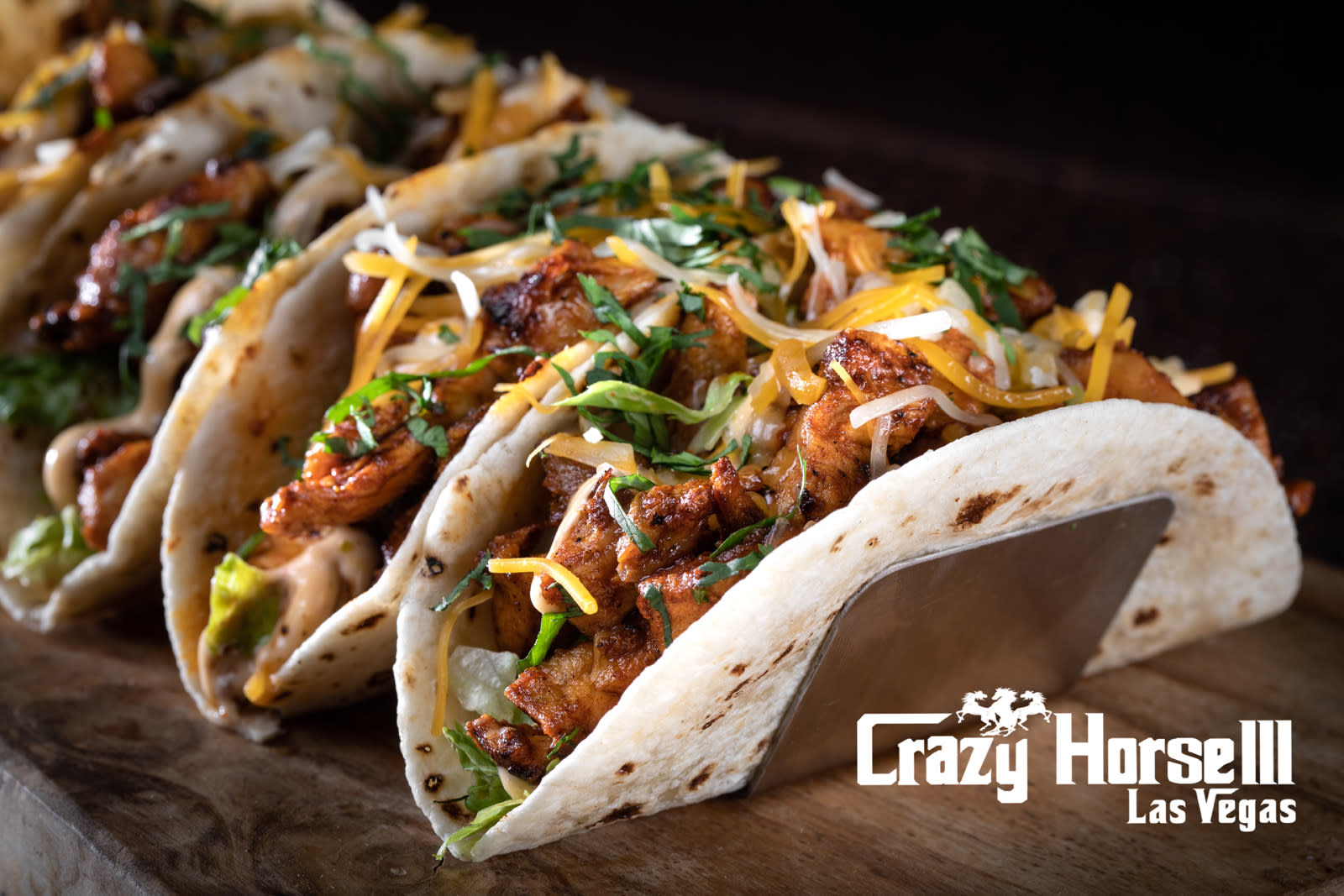 We are excited about our new menu at Crazy Horse 3, and we hope it satisfies every single one of your tastebuds. Be sure to check out the full menu.
Crazy Horse 3's Stylish New Craft Cocktail Bar
Our Stylish new craft cocktail bar is located just steps away from our ultra-private backdoor VIP entrance. Of course, you can still get your traditional alcoholic beverages like beer, a rum and coke, and others at one of our many other bars, but our new cocktail bar is for the sophisticated drinker. The one that wants a little more out of their cocktails. So what are the new signature cocktails?
Our new signature cocktail menu includes 14 of the finest handcrafted cocktails you will find in all of Las Vegas. Like say, the Good Ole' Old Fashioned, made with Bulleit Bourbon and Regan's Orange Bitters and garnished with an orange peel.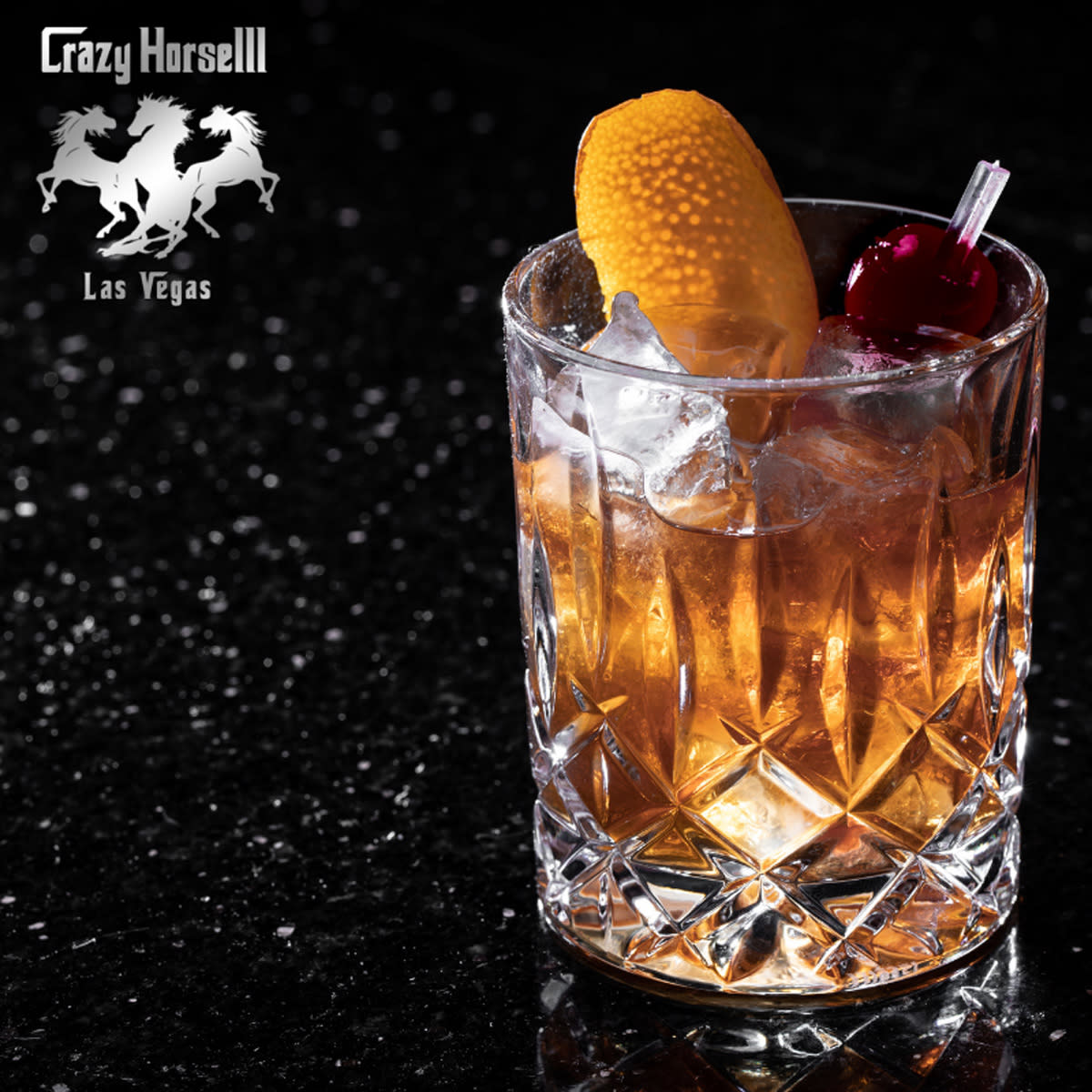 In need for some tequila? Try the Paloma, made with Patron Silver, grapefruit, lime, and Fever Tree Soda.
Need a drink mixed with the finest premium gin? Try the Negroni, made with Bombay Sapphire, Campari, and sweet vermouth. You could also try our Italian Gin & Tonic, made with Malfy Lemon Gin, Fever Tree Mediterranean tonic, and rosemary.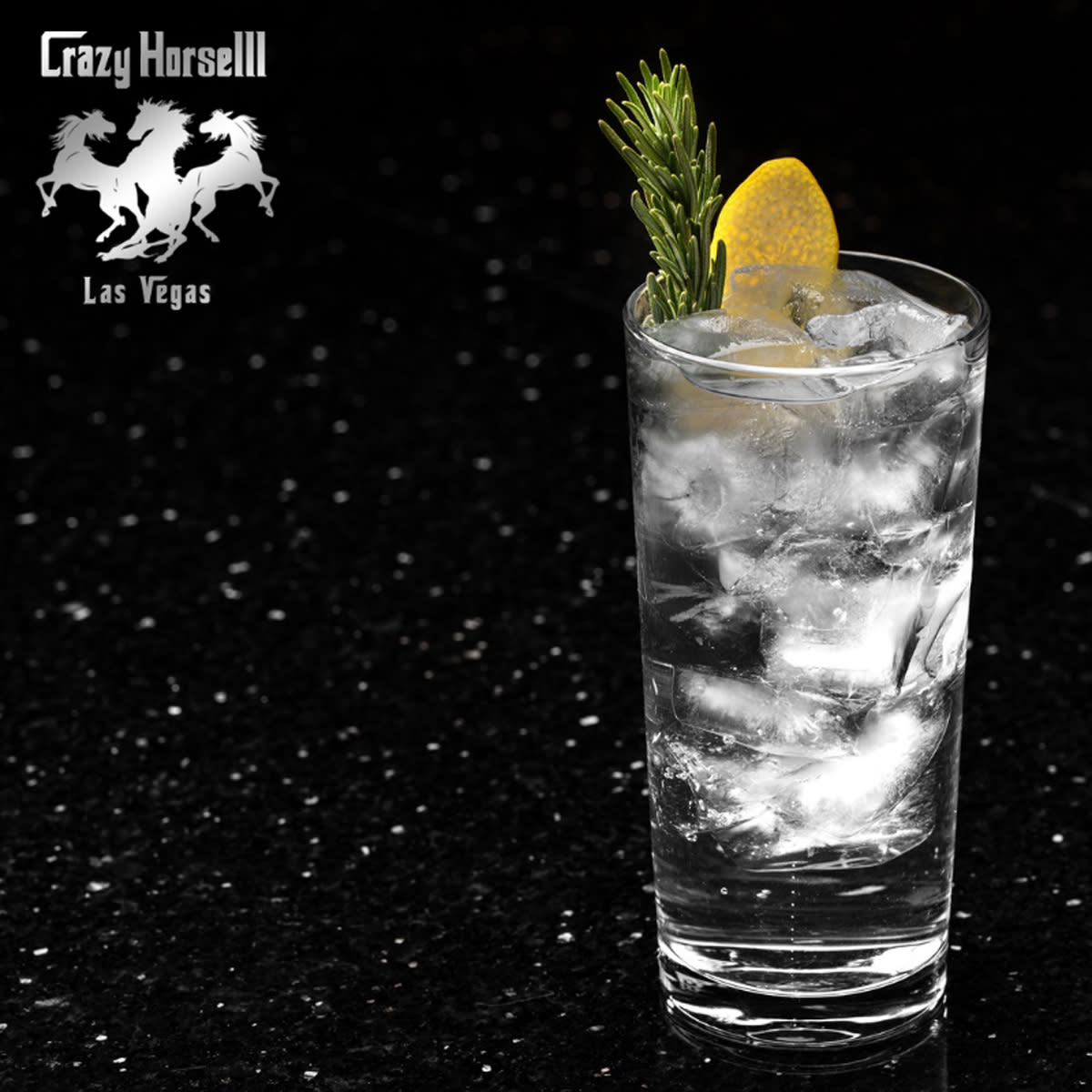 Our new craft cocktail menu also includes traditional craft cocktails like a Manhattan, made with Bulleit Rye, sweet vermouth, and bitters; or the Mai Tai High, made with Bacardi, OJ, pineapple, lux, and a float of Myers Rum.
Other craft cocktails that you'll surely be excited about are the Apple Pie Cooler, made with vanilla-flavored Grey Goose Vodka, Fireball Cinnamon Whisky, and apple cider, served in a martini glass with a honey-dipped graham cracker-covered rim and garnished with an apple slice; and the Espresso Martini, made with vanilla Grey Goose Vodka, fresh espresso, Baileys Irish Cream, Kahlúa liqueur, Frangelico liqueur and Demerara Syrup, topped with three espresso beans.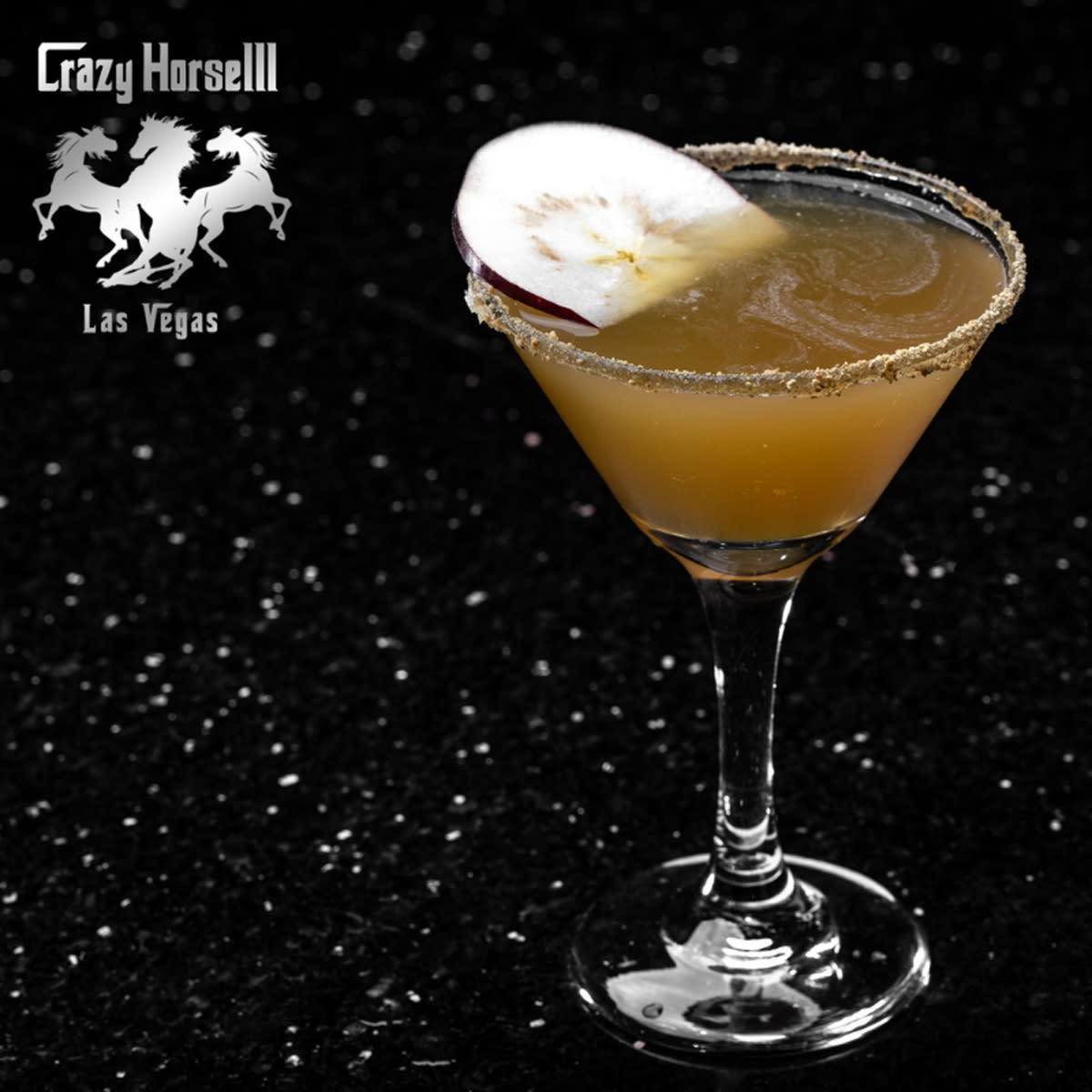 Now, these are just some of the highlights of our new craft cocktail menu. Below you will find a few others that might satisfy your drinking pleasure:
Side Car
D'usse Vsop Cognac, Cointreau, Lemon
Pink Lady
Hendricks , Cointreau, Grapefruit, Bitters
St. Germain Sparkler
Hendricks, St. Germain, Lemon, Prosecco
Amaretto Sour
Disaronno, Lemon Juice, Luxardo Cherry
Crazy Elyx Mule
Absolut Elyx, Lime Juice, Apple Cider or Fever Tree Ginger Beer, & Mint over Crushed Ice
Backroom Mojito
Bacardi, Lime, Soda, Mint
There is a lot of excitement in town about our new craft cocktail bar so we urge you to make reservations in advance to secure your seat at the exclusive craft cocktail bar by calling 702-673-1700.
Happy Hour!
In addition to our amazing new craft cocktail menu, we offer an award-winning daily happy hour from 8 a.m. to 8 p.m., featuring $5 Patrón Tequila and Stoli Vodka cocktails, $5 Bud Lights and $5 food selections, including beef or chicken sliders, chicken and cheese quesadillas, an Italian sub, chicken Caesar wraps, Philly cheesesteaks and more. Our daytime happy hour also features two bottles for $200 for those wanting to elevate their experience even further.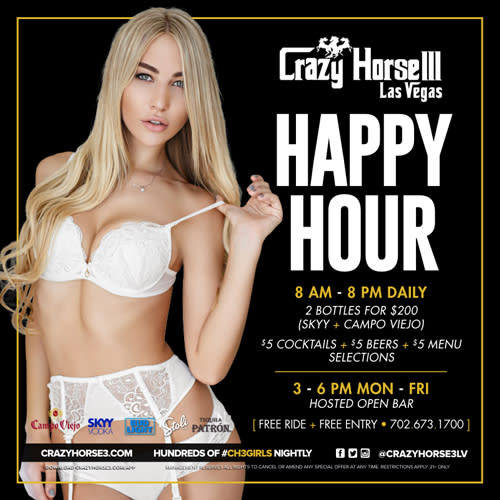 New Craft Cocktail Package
$99 Per Person
CHOOSE YOUR COCKTAIL
VIP Transportation and VIP Admission with no line wait ($50 value)
VIP table in main room with your choice of 3 CH3 Signature Cocktails ($90 value) and One Appetizer
Appetizers to choose from include: Tacos - Steak, Chicken, Pork, or Fish (serving size 3), Sliders - Burger, Meatball, or Pork (serving size 3), Either rolled quesadilla steak or chicken, Chicken Fingers/Fries or Wings/Fries ($25 value)
Want to try out our menu, but don't have a ride? You can get complimentary transportation service by calling 702-673-1700.