Allegiant Stadium, the Raiders New Home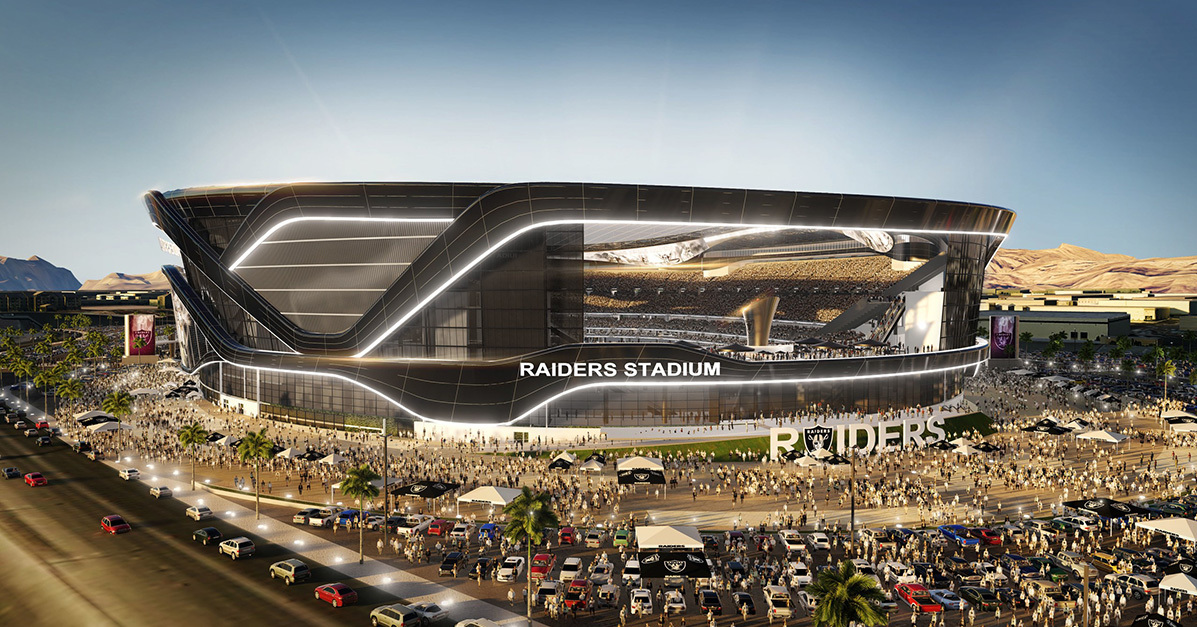 Description: The Raiders New Stadium will change Las Vegas forever, Are you ready to tailgate party?
Las Vegas Stadium: Raiders' New Home
Allegiant Stadium, the Raiders' New Home, is under construction in Paradise, Nevada and will also be the home for the UNLV Rebels football team. The modern 65,000 seat venue sits on prime real estate, located in close proximity to McCarran airport and the Las Vegas Strip. The Las Vegas Stadium offers the best of both worlds — an outdoor feel with a natural-grass playing field and a comfortable controlled climate with a stunning view.
The Design
Manica Architecture designed the state of the art stadium which features a horseshoe-shaped seating arrangement that is open on one end showcasing spectacular views of the iconic Las Vegas Strip casinos & attractions. The 10-level stadium features a clear ETFE roof, large retractable curtain-like side windows facing the Vegas Strip, and liberal use of the silver and black color scheme to pull it all together. The air-conditioned dome seats up to 65,000 but can extend to 72,000 for Super Bowl Events. Another design feature includes a "memorial torch" on the north side of the building near the retractable doors.
The polymer roofs allows natural light in but the stadium during the daytime will look black from the outside. On the inside, the field and seats will bask in natural light. During the night, however, the lights inside the venue will be visible from the outside.
Construction and Budget
The Mortenson|McCarthy joint venture team will build the $1.8 billion domed stadium, which will also host UNLV Football and a variety of other sporting and non-sporting events. In addition to the stadium, the site will accommodate tailgating amenities, parking, and mixed-use commercial development.
The budget for the development of the stadium is estimated at $1.8 billion. $850 million of which is from the Raiders, while $750 million is from public funds, which are the county's hotel room taxes and $200 million is from NFL's G-4 loan program which Raiders would have to pay back.
Schedule
The construction started in September 2017 and is scheduled to be completed on August 2020 in time for the NFL 2020 season. Currently, the Las Vegas stadium is on schedule for the August 2020 completion date. The site continues to add workers, while concrete work and steel structure are moving at a speedy pace.
According to Las Vegas Review-Journal, the stadium is about half finished although there are concerns regarding the infrastructure, transportation, and mobility for the stadium. According to the April 2019, Site Observation Report cautions that there is now "zero float" in the project schedule which means there is no excess time between activities.
Despite that, field level work and MEP installation, masonry and other structural work are "progressing at 6-8 weeks ahead of schedule." Also, the field level work, including SOG, masonry, and MEP installations are "progressing 6-8 weeks ahead of schedule." Moreover, it may not visible to the passers-by on Interstate 15; work inside the stadium is also progressing rapidly.
Economic Impact
The project continues to move at pace and on schedule with more than 1,200 workers on the site. Job opportunities were also given to women, minorities, and veterans when the legislation and plan establishing workforce goals for the Las Vegas stadium project took effect. A benchmark of 38% participation by women and minorities was considered. Board member Lynn Littlejohn, a liaison to the Mortenson-McCarthy reported a goal of giving at least 15% of contract work to Small Business Enterprise-qualified subcontractors was surpassed through February, 68% of the firm's awarded work on the project is based in Nevada and 2% of the workforce are veterans.
Because of the high-profile nature of the NFL and the Oakland Raiders, Southern Nevada is gaining a new tourism asset in 2020: the stadium itself.
According to Robert Lang, executive director of Brookings Mountain West, and the Lincy Institute, Southern Nevada's lack of a quality venue to attract major special events have hampered its ability to capitalize on its core economic strength — big entertainment and sports
events. The town can be a center for regional banking and advertising, thus taxes on new businesses and on special events like live entertainment taxes — will create general-fund dollars that can be dedicated to several projects.
As a result of the climate-controlled stadium where the team plans to kick off the 2020 season, Nevada officials expect 450,000 people a year to travel to Las Vegas primarily to attend an event at the venue. Applied Analysis says those hundreds of thousands of new faces in Vegas would not only attend sporting event or concert at the stadium but also spend money on other things. The spending would translate into an economic output of $620 million each year, giving $22.5 million in new local tax dollars for Clark County. In view of this, Gov. Brian Sandoval appointed a 19-member special committee to develop a plan and possibly form a new authority or commission to leverage the new venue by attracting major events.
That would mean having funding available to lure the Super Bowl, the NCAA Final Four, soccer exhibition matches, collegiate football games and concert performers popular enough to fill a stadium.
Superbowl Hopes
The Team's owner, Mark Davis, set his sights on the crown jewel of events, the Super Bowl, which they hope to lock up as early as 2023. While there is no guarantee Las Vegas will secure the appointment, Davis serves as one of 9 members on the Super Bowl committee. Couple that with the recent trend of the NFL owners awarding the big game honors to cities that recently completed new stadium construction, the odds are good that in the next 8 years, Las Vegas hosts the NFL championship game. Adding in more luxury suites will provide the celebrities and wealthy elite with a plush space to watch the Big Game.
Other Opportunities
Another great opportunity is youth sports. Hal Pastner of Bigfoot Sports coordinates amateur basketball tournaments in Las Vegas said that the youth basketball movement is exploding nationwide and Las Vegas would be a major destination for tournaments. Having said this, thousands of hotel rooms will be filled annually and car rentals will be sold out during big tournaments. Three major youth soccer tournaments are already being staged in Las Vegas — the Players Showcase, the Mayor's Cup and the Vegas Cup.
Another business opportunity is the real estate business. According to a report from Coldwell Banker Premier, the luxury home and condo segment are promising segments. Uri Vaknin, a partner at KRE Capital says that for more than a year Raiders' fans from California are buying up condos. KRE Capital's portfolio includes more than 1,300 condominiums with Dune Real Estate Partners, including The Ogden and Juhl downtown, and One Las Vegas on the far South Strip. They're seeing consistent great sales at the One Las Vegas property, 60% coming from California even though historically they don't target them.
Local businesses near the Raiders stadium are also benefiting from the project. There have been notable increases in employment in the sectors of health care and higher education. To date, the project has hit the 20% mark with more than $198 million committed to small business entities from the stated goal of 15% participation among minority, women, veterans, and others in the project's overall workforce and small business contracts.
Street Traffic
The location, which is adjacent to Interstate 15 near the intersection of Hacienda and Polaris avenues, faces unique challenges with respect to traffic & parking
Concerns are the following:
(1) The site needs 16,250 parking spaces, but only 2,400 spaces can be squeezed into the available land. The formula is one-quarter of a parking space per event attendee; since the stadium will hold 65,000, 25% of that is 16,250.
(2) The parking study estimated that half of a capacity crowd will arrive from out of town. Of those 32,500 people, nearly 20,000 will walk the 20 to 25 minutes from hotel rooms within a mile instead of trying to drive or take taxis or rideshares.
(3) The need for mass transit. There are 2 stadiums next to one another in a very tight space. Surface street transportation cannot handle the surge.
Some solutions proposed are the following:
(1) building series of smaller off-site park-and-ride lots and partnering with Strip resorts for parking and allowing nearby private business owners to rent their parking spaces for stadium events.
(2) carve an estimated 13,000 spaces out of the nearby Bali Hai Golf Club.
(3) for UNLV, whose football team will be sharing the stadium with the Raiders, to make available the lot at Thomas and Mack Center and other vacant property for temporary parking lots.
(4) The parking study recommended a new pedestrian overpass. "With all the traffic from that stadium, we definitely need to improve the infrastructure there," Mitchell said last October 2018. NDOT is in the process of a federal and environmental impact study, and once that's complete, construction can start.
Last May, members of various local entities comprised of the Regional Transportation Commission of Southern Nevada, the Nevada Department of Transportation, Clark County and others will make up a committee aimed at finding the best transportation plan for a 6.6-square-mile area surrounding the stadium. The goal of the transportation plan is to create a pedestrian-friendly, walkable environment with multiple transportation options in a dense urban setting.
Plans call for the reconstruction of the interchange, including a diamond on-ramp and off-ramp configuration with a flyover at Tropicana Avenue, according to NDOT. The project is aimed at increasing traffic flow in the area, which sees 320,000 vehicles travel on I-15 and 86,000 vehicles travel on Tropicana daily but plans show the project won't start until 2021 — a full year after the stadium opens — and won't be completed until 2024, according to NDOT.
Controversies
There are a couple of controversies surrounding the Las Vegas Stadium, one is the Nevada Policy Research Institute, has a less favorable view of the taxpayer-funded venue, arguing
That if the Raiders stadium deal was a true investment there is no need to rely on taxpayer dollars according to communications director Michael Schaus. Taxpayer money should be kept in Nevada, rather than subsidizing a billionaire's private NFL team.
The second controversy pertains to attracting other major sporting events and activities to Las Vegas to take advantage of the new stadium. Bidding on large events, such as the Soccer World Cup, costs money. The 19-member special committee has been tasked with proposing a solution. Peter Sadowski, executive vice president of the Vegas Golden Knights, made a suggestion to let Las Vegas Events & LVCA build on their successes of National Rode Finals and Rock 'n Roll Marathon with expanded funding. The problem stems from the fact that Las Vegas Events is a private non-profit organization founded in 1983 and its meetings are not open to the public because it is a private organization. The stadium is partly publicly funded that means taxpayers have a right to know how their dollars are spent.
Another controversy is relating to construction:
(1) There was the 53-day delay of the fabrication, delivery, and assembly of structural steel in which not all of the structural steel arrived and not all of it was fabricated, according to Las Vegas Stadium Co. Chief Operating Officer Don Webb.
(2) Another issue is tariffs put on imported steel by President Donald Trump. A lot has yet to be purchased and installed in the stadium which involves high-tech electronics and those are largely currently produced in China and order tied to those electronics is between $2 million and $3 million.
(3) Little margin for error is aimed but the lack of an available skilled workforce has also been an issue the stadium team has faced especially in finding ironworkers for the site with a dire lack of welders
Lastly, many forecasts that the domed stadium would be dark for the vast majority of the year, meaning most days it would not generate stampedes of visitors who could spend money at nearby businesses. Also, there are countless bars and restaurants that are just a short drive away on Las Vegas Boulevard, potentially posing steep competition for taverns and eateries that open near the Raiders stadium in high rent locations.
The Raiders are still playing in the Oakland-Alameda stadium for the 2019 NFL season which has been their home for decades. The team left Oakland to play in Los Angeles in 1982 season and returned at the start of the 1995 season. They were planning to move back to LA again, but the NFL declined their proposal, and on March 2, 2017, the NFL team owners voted almost unanimously to relocate the Raiders to Las Vegas in a 31-1 vote at the annual league meetings in Phoenix, Arizona. But despite the team's plan of moving again, fans are still ecstatic to see the Silver and Black on the football field and would continue to support their favorite team even if the Raiders move to their new home--the Las Vegas Stadium.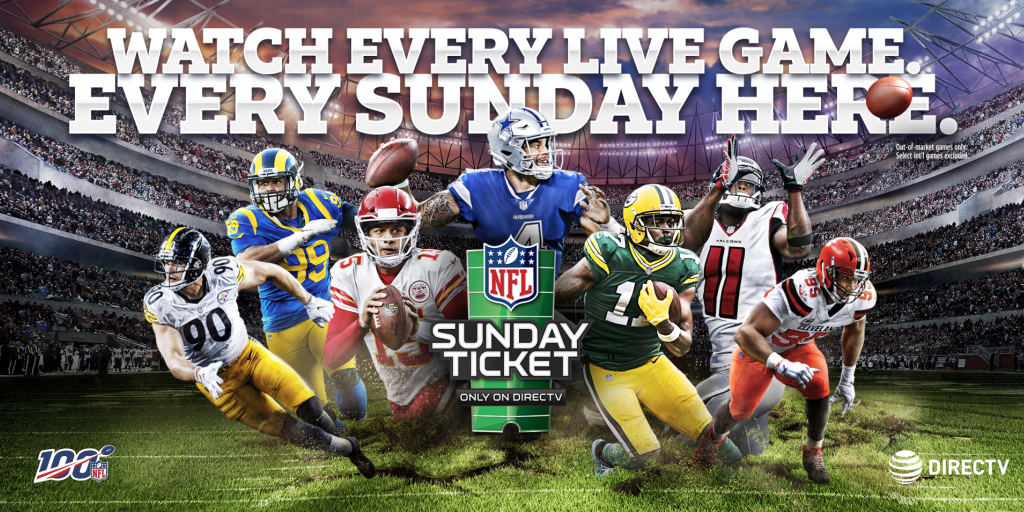 The Local Raiders Fan Secret
We've invested greatly over the past several years to upgrade our club to make it the best place in Las Vegas for football fans. You can enjoy the games on our huge gallery of massive HD screens. We've also expanded parking to accommodate more fans on game day. And of course, we throw numerous parties year-round to celebrate football.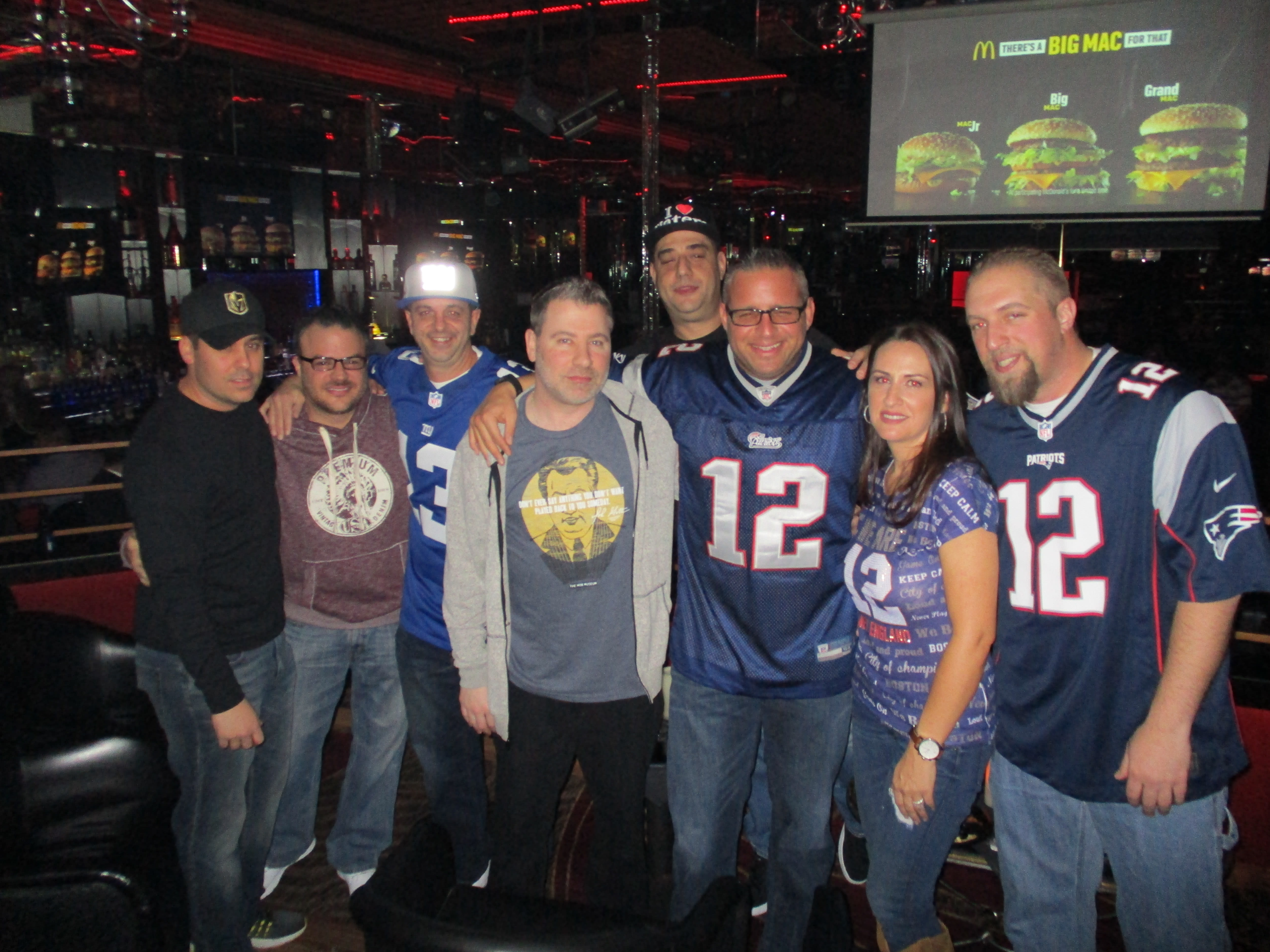 We have draft parties, pre-season parties, fantasy football draft parties, MNF viewing parties, Playoff parties, and of course a party for the Big Game. You get the idea. We love football, and we know you do too, so join us!
2019 Fantasy Football Draft Party Package
$99 fantasy football package
VIP Transportation and VIP Admission with no line wait ($50 value)
VIP table in main room, beer bucket, pizza and One Appetizer of their choice (Appetizers to choose from include: Tacos- Steak, Chicken, Pork, or Fish (serving size 3), Sliders - Burger, Meatball, or Pork (serving size 3), Either rolled quesadilla steak or chicken, Chicken Fingers/Fries or Wings/Fries ($25 value)
Why CH3 Should Be the Game Day Destination for Raiders Fans
You can avoid the transportation nightmare, surge pricing, and high parking fees by taking advantage of a local's secret. Crazy Horse 3 sits adjacent to the new Raiders Stadium, just a few hundred feet away.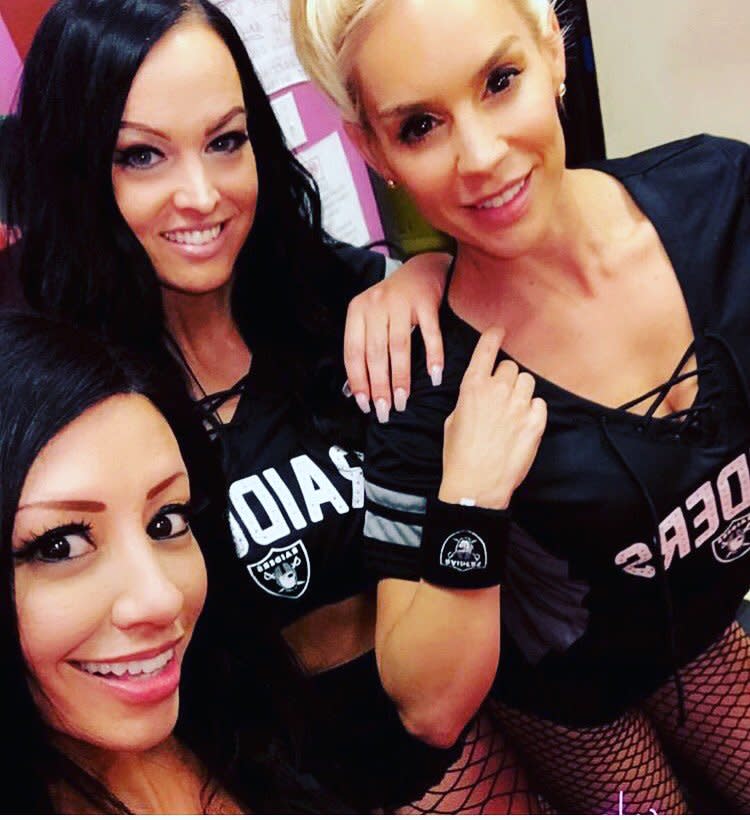 Here are the Top 3 reasons why Crazy Horse 3 is the BEST place to be on game day.
One, our 40,000 square foot gentleman's club is only a short walk from the stadium.
Two, you can enjoy the game by watching it on giant HD TV screens that strategically placed throughout the club. The main room has a fifty-foot long bar that serves the finest drinks. But if you want to enjoy the game in a more private and intimate way with your favorite girls, we have luxuriously furnished VIP rooms.
Three, we have a wide range of entrées for you and your football buddies to enjoy, such as our own spin on sandwiches, burgers, pizza, and hot wings. We also serve killer craft cocktails like Espresso Martini, Good Ole' Old Fashioned, Paloma, Negroni, Side Car, Pink Lady, Apple Pie Cooler, Italian Gin and Tonic, Manhattan, St. Germain Sparkler, Amaretto Sour, Crazy Elyx Mule, Mai Tai High, and Backroom Mojito.
Imagine, watching your favorite game on a giant TV, enjoying great food and first-class drinks PLUS surrounded by smoking hot girls at your beck and call. And did we mention that everything in Crazy Horse 3 screams luxury? Yes! Crazy Horse 3 takes pride in ensuring that you get to enjoy your football party in peace, prestige, and luxury.
Call (702) 673-1700 to reserve your spot today.
Don't have tickets to the game? Join us and our 100s of beautiful entertainers and watch the Silver and Black on numerous HD screens. We'll have specials all day, just call. Go Raiders!



Crazy Horse 3 Kicks off the 2019 Football Season: Raiders TopessTailgate Party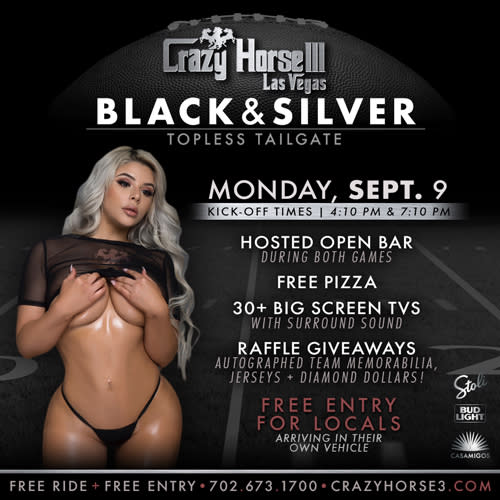 It's the Black & Silver Topless Tailgate at Crazy Horse 3 on Monday, September 9. Kick-off times at 4:10pm and 7:10pm. Hosted open bar during both games. Free pizza. 30+ big screen TVs with surround sound. Plus raffle giveaways including autographed team memorabilia, jerseys and diamond dollars. Free entry for locals arriving in their own vehicle.
Crazy Horse 3 is Your Football Headquarters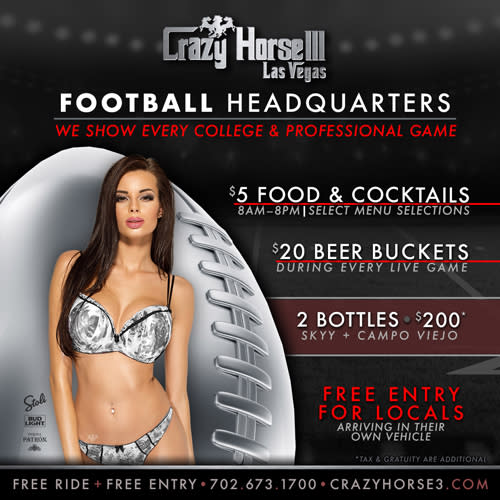 Find out why Crazy Horse 3 is the best place in Las Vegas to watch football. We show every college and professional game. $5 food & cocktails from 8am to 8pm on select menu selections. $20 beer buckets during every live game. 2 bottles $200 - Skyy and Camp Viejo. Free entry for locals arriving in their own vehicle.
Looking for a place to watch Monday Night Football in Las Vegas? Crazy Horse 3 shows all the MNF games. Enjoy hosted open bar until halftime. Free pizza. 30+ big-screen TVs with surround sound. CH3 Parlay cards enhance the action. And don't forget our awesome raffle giveaways with Diamond dollars, free swag, & more. Locals arriving in their own transportation get free entry.
Book your football party online, or call (702) 673-1700!