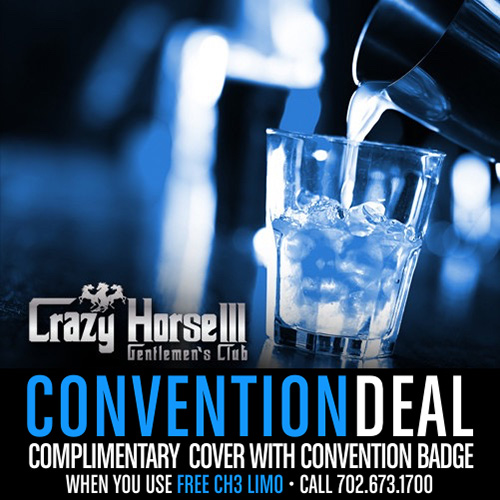 Tired of walking the convention floor? Bored with sitting through long presentations? Crazy Horse III knows after a long day of work, you're ready for a something Crazy. Grab some friends and meet the girls at CH3.
After Convention
Featured Deal
$ 799.00
Premium Transportation to CH3
VIP Front of Line Entry ($80 Value)
No Admission Charge ($40 Value Each)
Main Room Seating
3 Call Brand Bottle with unlimited soda and juice carafes ($1,495 Value)
Bottle selection includes Skyy Vodka, Seagram's 7 Whiskey, Jack Daniels Whiskey, Jameson Irish Whiskey, Patron Tequila, Johnnie Walker Red Scotch, Bacardi Rum, Captain Morgan Spiced Rum, Courvoisier Cognac, Tanqueray Gin, Beau Jouet Champagne
NOTE: This package is not available for use on Thu-Sat, April 23-25 (Draft). Please reserve one of our Draft packages or call 702.673.1700
Promotions cannot be combined with any other offers. Management reserves all rights.


I agree that I am 21 years or older.