Loading...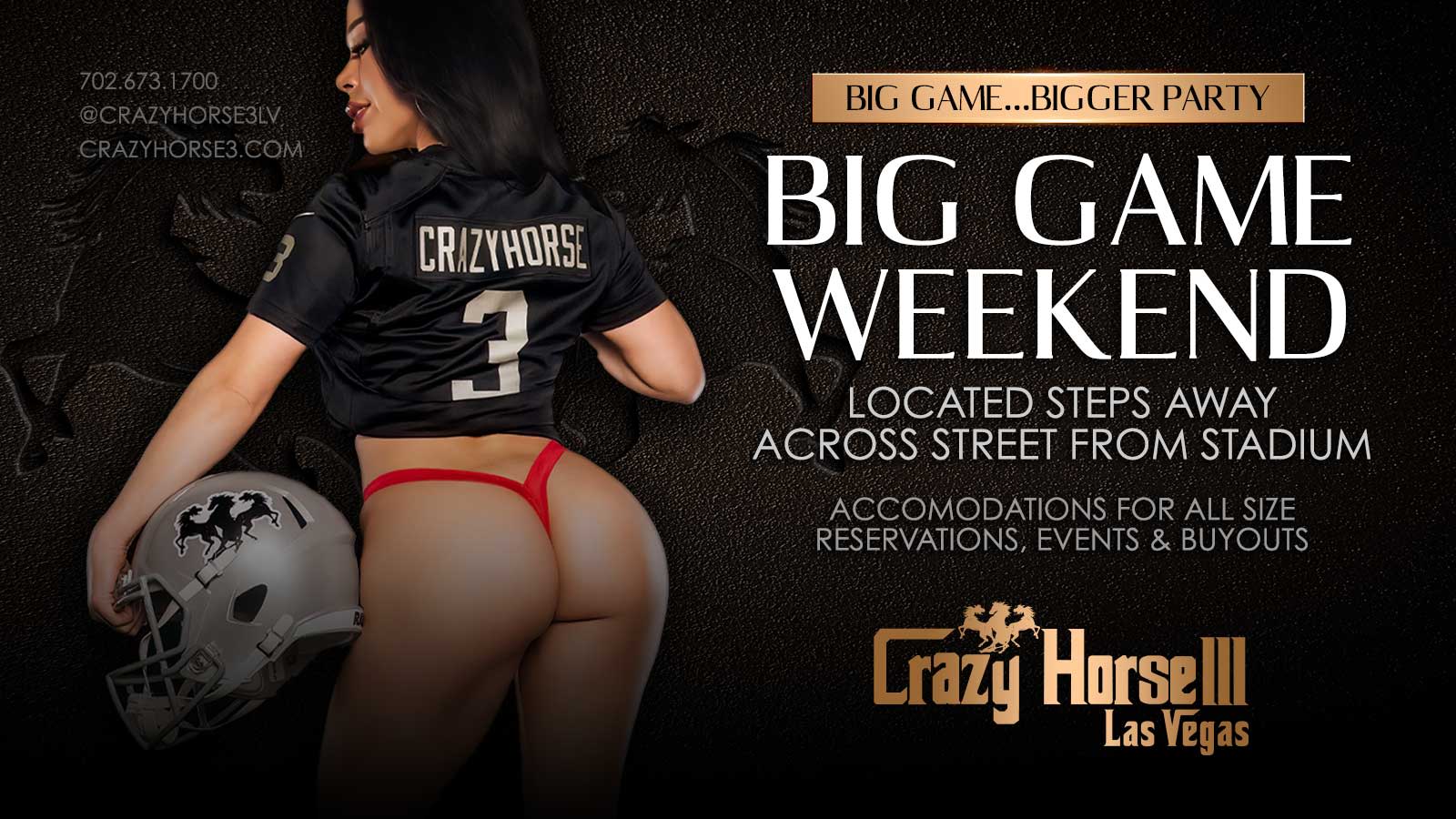 Crazy Horse 3, located steps away from Allegiant Stadium, home to the Las Vegas Raiders, is the place to be all Big Game Weekend, Feb. 10-12, 2024! Get ready to be at the heart of the action, where the excitement of the big game at Allegiant Stadium is right outside of our front door. Crazy Horse 3 Gentlemen's Club is more than just a venue – it's an exhilarating 24/7 party for football fanatics on the biggest day in professional football.
Located just a few blocks west of The Las Vegas Strip and Mandalay Bay, Crazy Horse 3 is the ultimate adult and sports entertainment destination for those looking to enjoy the game from a lively but more private atmosphere beyond the field. Crazy Horse 3 offers a nearly front row view of the stadium with a spacious four-acre parking lot available to rent out to host product activations, fan experiences and other events.
Imagine stepping out of the club to hear the pulse-pounding energy of the 2024 game and pregame festivities. Or imagine stepping into the club to watch the game on one of over thirty, state-of-the-art, 85-inch flat-screen TVs showing all of the action. Guests can enjoy a dynamic atmosphere complete with 100s of gorgeous entertainers, a premium VIP bottle menu, delicious full kitchen, spinning DJ and more, all in a prime location.
Ready to take your Big Game Weekend Las Vegas experience to the next level? Don't miss out on this extraordinary opportunity to be part of the excitement at the top gentlemen's club in Las Vegas, Crazy Horse 3.
With the backdrop of Allegiant Stadium, your experience here will be nothing short of extraordinary. Secure your VIP bottle service now and immerse yourself in a world of luxury, entertainment and unparalleled hospitality. Join us for an unforgettable night where football meets Vegas nightlife. Book your Las Vegas Party Package today!
So, gear up for the football fiesta of a lifetime! The 2024 football game is knocking at the door, and the club is your golden ticket to immersing yourself in the epic showdown. From the pre-game anticipation to the final whistle, you'll be at the heart of the action, creating memories that will be talked about for years to come.
Contact us today to discuss how we can bring your vision to life and elevate your brand to new heights.