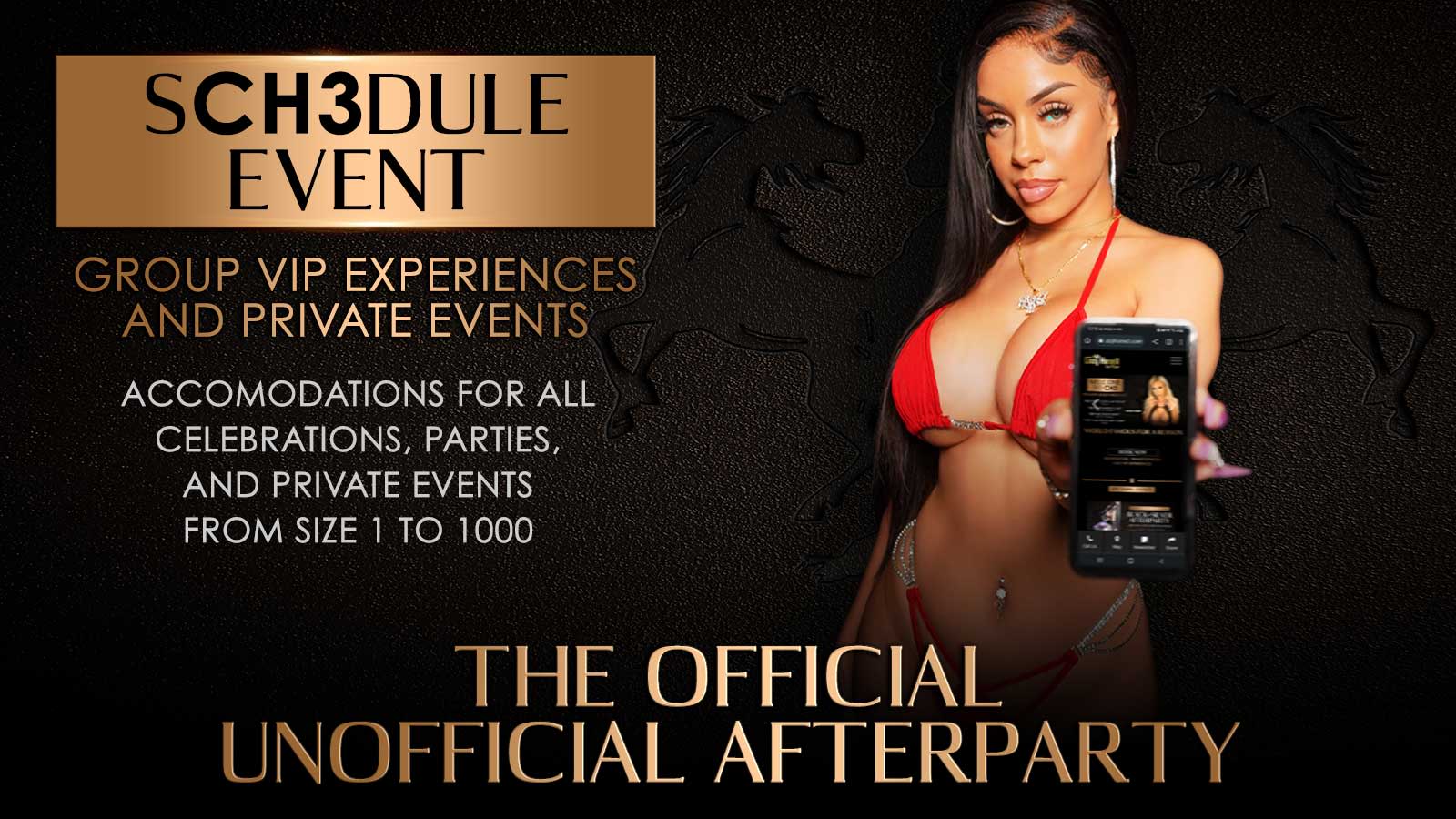 EVENTS FOR ANY SIZE OR CELEBRATION
Named "Best Strip Club" by the Las Vegas Weekly in 2022, Crazy Horse 3 is located steps away from Allegiant Stadium, home to the Las Vegas Raiders, and just a few blocks west of The Las Vegas Strip and Mandalay Bay.
Looking to host a special celebration, corporate event, brand, activation, bachelor party or birthday? We've got several semi-private and private areas to choose from including our spacious four-acre parking lot adjacent to Allegiant Stadium, home of the Las Vegas Raiders, to multiple VIP party rooms, complete with private bars, restrooms and separate entrances. All of our party packages are flexible and can include addons including an open bar, a completely customizable food menu with passed service, customizable messaging on internal TV screens and more.
VIP Suites - Up to 15 Guests
For a more intimate celebration, our private VIP suites offer exclusivity and luxury and are complete with a private server and personal host.
Posh - Up to 150 Guests
Step into a realm of elegance and exclusivity as you discover our separate private event space designed to accommodate up to 150 guests, ensuring an intimate and personalized experience like no other. Popular with mainstream corporate events, Posh features a full bar, private entrance and is separated from the main club by a wall, allowing brands and guests looking for a mini nightclub space to host a party or activation separate from the gentlemen's club, a customizable option to do so. Of course, if you want to bring the adult entertainment into Posh, we are fully able to do so as well.
Gold Room - Up to 200 Guests
With 15 state-of-the-art 85-inch TVs adorning the walls, enjoy a front row seat to your favorite sports events, live broadcasts, or the flexibility to bring custom content of your own to life with stunning clarity.
Complete with two stages and lavish VIP booths, guests love the sophistication and convenience of a private entrance, a private full bar and restroom.
Crazy Horse 3's Gold Room guests can enjoy this exclusive haven but also have the added advantage of seamless access to the main club, where they can immerse themselves in the vibrant atmosphere and customize their experience by opening or closing blackout drapes, creating the perfect ambiance that seamlessly blends with the adjacent main room.
Full Venue Buyout - Up to 1100 Guests
At Crazy Horse 3, we specialize in creating extraordinary experiences that leave a lasting impression. Whether it's a milestone celebration, product launch, or any other special occasion, our Full Venue Buyout option guarantees an event beyond compare.
Our 40,000 square-foot venue features five sprawling stages, four full bars, a bustling VIP area, over 30 85-inch flat screen TVs, perfect for displaying custom content or gaming and more. Our full-venue buyouts are available to be booked with adult entertainers or without. Let Crazy Horse 3 redefine your expectations of what an event can be.
Parking Lot - Up to 1200 Guests (spanning four acres)
Imagine your brand taking center stage in the heart of Las Vegas, capturing a versatile outdoor setting that can be transformed into an immersive brand activation space. Our massive casino-sized digital marquee billboard, facing Allegiant Stadium, home to the Las Vegas Raiders, is fully customizable and provides an extraordinary opportunity to showcase your brand to a vast audience.