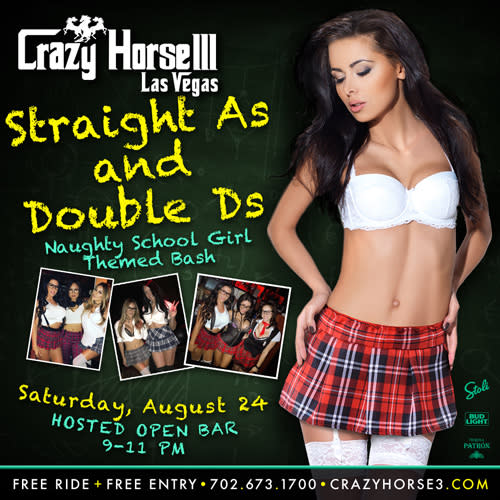 Crazy Horse 3 will celebrate National Back to School Month with a 'Straight As and Double Ds' bash on Saturday, August 24 starting at 9 p.m. Students with a valid college ID are invited to indulge in a hosted open bar 9pm to 11pm. Come enjoy the company of the naughtiest schoolgirls in Sin City. For free ride and free entry, call 702.673.1700 or book your package online and save now.
Naughty Schoolgirl
Themed Bash
$ 49.00
Premium Transportation to CH3
VIP Front of Line Entry ($40 Value)
No Admission Charge ($40 Value)
Main Room Seating
$60 Beverage Voucher
Promotions cannot be combined with any other offers. Management reserves all rights.


I agree that I am 21 years or older.